あ、カンバーバッチだ、とついレンタルで手を出してしまいました。
ド派手な戦闘シーンの連続でちと疲れました。
そっか、これ劇場で3Dとやらで見ると迫力満点でしょうね。
でも、私は基本的に戦闘モノはあまり好みではなくて。
だって、自分の親しい人が殺されたりして悲しいのはもちろんわかるんですけど
そのお返しに敵だけじゃなく無関係な人もやたらめったら死んでいく、というのがどうも。
映画だからって何も感じずに見るというのは・・・。
登場人物の描き方や互いの関係はよかったです。
戦闘シーンメインなので少ないのですが。
カンバーバッチは悪役が似合いすぎるなぁ。
英語のリスニングにはあまりならないかな
半分はマシンの戦闘音なんですもの。
DVD:STARTREK Into Darkness
CAST
クリス・パイン
ジェームズ・T・カーク
ベネディクト・カンバーバッチ
ジョン・ハリソン
ザッカリー・クイント
スポック
ゾーイ・サルダナ
ウフーラ
ジョン・チョウ
ヒカル・スールー
サイモン・ペッグ
モンゴメリー・"スコッティ"・スコット
アリス・イヴ
キャロル・マーカス
カール・アーバン
レナード・"ボーンズ"・マッコイ
アントン・イェルチン
パヴェル・チェコフ
ブルース・グリーンウッド
パイク提督
ピーター・ウェラー
マーカス提督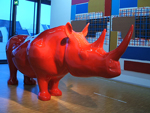 WIKIでは
『愛国殺人』(原題:One, Two, Buckle My Shoe)は、アガサ・クリスティが1940年に発表した推理小説である。
原題はマザー・グースの童謡の1節(日本語訳:「いち、にい、わたしの靴の留金を締めて」)であり、以降20までの数え歌の歌詞が作品の章のタイトルとなっている。ただし、犯人が童謡の歌詞を用いて殺人を演出する「見立て殺人」ではない。
とあります。
オープニングのこの童謡が、二人の女の子が歌いながら遊んでいるのですが、これがなんとも怖い雰囲気でホラーみたいでした。そんなことはなかったんですけどね。
初めのほうに登場人物が
"Much Ado About Nothing"
に出演していて、それが伏線になっているのが面白かった。
被害者二人がとってもお気の毒。
「飢餓海峡」を連想しました。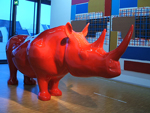 先日
National Theatre Live
を観て、このDVDも借りてきてしまいました。
あらすじを知らずに見に行ってよかった。
今回はストーリーはわかったので、英語字幕にして見ました。
この映画もよかったですが、やはりNational Theatre Live の感動は改めて大きかったです。
なにも前知識がないのに、オープニングのあの二人のシーンだけでなぜか胸が熱くなりました。
映画もそうですが、二人が夢を語るシーンは胸がつまります。
それは叶えられないとわかっているからでしょうか。
台詞はLiveのほうが訛りも泥臭くそれが魅力でした。
映画もいいですが、映像ではあってもやはり生の舞台は観客との距離が近く感じます。
CLIP DESCRIPTION:
George (Gary Sinise) takes a dead mouse away from Lennie (John Malkovich), causing Lennie to cry, but promises to one day buy him a puppy.
FILM DESCRIPTION:
Gary Sinese directed this respectful re-telling of John Steinbeck's classic novel, with Sinese as the wily George and John Malkovich as the brutish, simple-minded Lennie. Set during the Depression era, the film opens as George and Lennie are running from a woman with a torn dress, who has sent a gang of ruffians to chase the two out of the county. After a long bus ride and a ten-mile walk, George and Lennie arrive at a migrant farm in California's San Joaquin Valley, where they seek work. George dreams of putting together enough money to buy a small piece of land where he and Lennie can build a home; he hopes that in California the two can realize their dream. Unfortunately, the foreman of the ranch, Curley (Casey Siemaszko), enjoys tormenting Lennie, while Curley's frustrated wife (Sherilyn Fenn) entices Lennie with her sexual allure. George warns Lennie to steer clear of Curley's wife, but Lennie follows her to a barn where a tragedy occurs and George and Lennie's dreams are shattered.
CREDITS:
TM & © MGM (1992)
Cast: John Malkovich, Gary Sinise
Director: Gary Sinise
Producers: Alan C. Blomquist, Gary Sinise, Russell Smith
Screenwriters: John Steinbeck, Horton Foote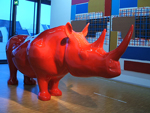 Macbeth: Cannes 2015 review

Michael Fassbender and Marion Cotillard star in a dark new adaptation of Shakespeare's play, directed by the Justin Kurzel. Nicholas Barber takes a look from the Cannes Film Festival.
Superstitious actors like to call Macbeth "the Scottish play", but Shakespeare's tragedy of vaulting ambition has never been more Scottish than it is in Justin Kurzel's startling adaptation. The looming mountains of the Highlands are rarely out of shot, every man in the cast has been issued with a regulation straggly ginger beard, and the actors (with one exception) have almost-perfect Scottish accents. Macbeth himself, Michael Fassbender, has obviously been listening to his X-Men buddy, James McAvoy: close your eyes and you can picture McAvoy speaking every line.
But despite these tartan touches, it's soon apparent that the film isn't set in 11th-Century Scotland at all. The reason Kurzel's Macbeth is so awe-inspiring, but also vaguely unsatisfying, is that it's actually set in Hell.
Radically cutting down and revising Shakeseare's text, Kurzel and his co-writers open with a stark, wordless scene of Macbeth and his wife (Marion Cotillard) on a bleak hillside, lighting a funeral pyre for their baby. Minutes later, the battle in which Macbeth proves his worth to King Duncan (David Thewlis) is hardly a display of chivalric valour and charismatic leadership. Macbeth's woad-smeared troops simply charge at their opponents like beery football hooligans. It's only Macbeth's wild-eyed viciousness that wins the day.
Afterwards, we move onto the cheery sight of a dog chewing on a corpse, while Macbeth and his lieutenant, Banquo (Paddy Considine), sleep on the freezing ground. And after that, Macbeth and Lady Macbeth don't entertain their grateful king in a fine castle, but in a scattering of tents on a moorland. The wind whistles, thunder rumbles, and there is more rolling fog than in a decade's worth of Hammer horror movies.
Foul is fair
Kurzel, the Australian director of Snowtown, has made a film which is, to quote the witches, bloody, bold and resolute. Obliterating any trace of stage-bound stuffiness, he replaces it with the mud and gore of an anti-war movie and the stylised immediacy of a graphic novel: the slow-motion blood-spurting recalls a previous Fassbender film, 300, except with jagged wounds in place of washboard stomachs. Kurzel does whatever he can do make every scene more nightmarish, whether that means including a procession of zombies (you read that correctly), or giving an inspired, apocalyptic twist to the Birnam Wood prophecy. At times, it seems as if he has shifted the action to a forbidding alien planet: Duncan and the royal court favour Jedi-like dressing gowns, while the witches' cosmetic facial scarring makes them appear half-Klingon. Speaking of science fiction, Macbeth is the second film I've seen at Cannes in which an Australian director has plunged us into a blasted netherworld of feral violence. After Mad Max, we have Mad Mac.
Kurzel's jaw-dropping vision makes Macbeth the most significant new Shakespeare film since Baz Luhrmann's Romeo + Juliet. But as striking as the unremitting darkness may be, it does tend to obscure our view of a doughty general bringing about his own tragic downfall. Fassbender is typically intense, attacking the role with teeth-baring savagery, but his Macbeth is a homicidal maniac right from the beginning, so when he becomes slightly more manic and slightly more homicidal, it's no great loss. In Kurzel's grisly purgatory, stabbing your king through the heart seems to be par for the course. As for Lady Macbeth, Cotillard is electrifying, but, with her reptilian glare and her coiled braids suggesting Medusa's snakes, she doesn't look as if she's tasted the milk of human kindness in her life. (It's also a pity that her accent sometimes struggles all the way north from France to England, but can't make it across the border to Scotland.)
What's missing from Kurzel's audacious drama is the feeling that anyone or anything is changing. There's no light and shade – well, no light, anyway. Shakespeare's comic-relief scenes have been excised, and there's even a coda which promises that the bloodshed is only just getting started. "Lay on, Macduff," says Macbeth, shortly beforehand. "And damned be him who first says, hold, enough." He's wasting his words. In Kurzel's Scotland, everyone is damned already.
Still, it's a hell of a film.
★★★★☆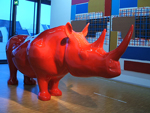 Joined two workshops.
I'm quite interested in both English and acting, so it is nice to learn both at a time.
It is not only instructive, but just fun!
Naturally, it is quite motivating, too.
Through learning English, I got a good opportunity to work with non-Japanese.
I had a very good experience working with them.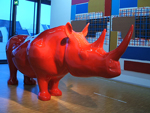 National Theatre Live:Of Mice and Men

Of Mice and Men. Longacre Theatre (see Broadway). By John Steinbeck. Directed by Anna D. Shapiro. With James Franco and Chris O'Dowd. Running time: 2hrs 25mins. One intermission. (
Time Out)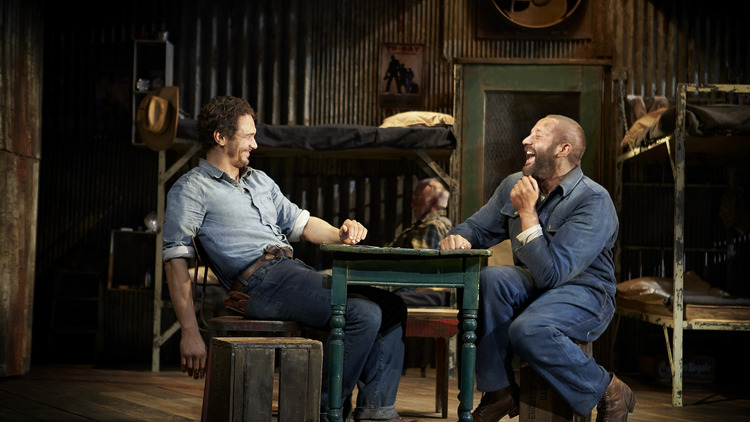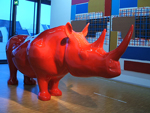 Attended one of the workshops at BC.
I found it interesting and enjoyed it.
I should listen to the following radio program they recommended.
The World of Our Making
A History Of The World In 100 Objects
http://www.bbc.co.uk/programmes/p009pm6g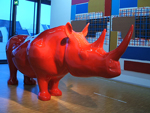 Futurelearn:Propaganda and Ideology in Everyday Life

Started 11 May - 5weeks
governable
surveillance
coercion