Julie Taymor's A Midsummer Night's Dream
Julie Taymor's A Midsummer Night's Dream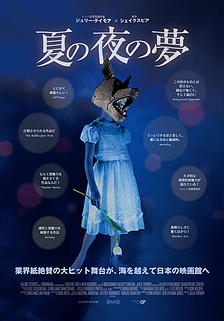 Trailer
From the director of The Lion King, Julie Taymor (Frida, The Magic Flute), comes a cinematic experience of the much heralded and sold-out production of Shakespeare's A Midsummer Night's Dream with music by Oscar-winning composer, Elliot Goldenthal (Frida, Heat), cinematography by Rodrigo Prieto (Birdman, Wolf of Wall Street) and stellar performances by David Harewood, Tina Benko, Max Casella and Kathryn Hunter.
Julie Taymor discusses A Midsummer Night's Dream at TIFF 2014 with Richard Crouse.
"I think film is so great for Shakespeare. You enjoy it in live theatre. The kids who came loved it, the pillow fights, theatrical stripping. They got it. But on film you have close-ups. This is where film is better than the theatre. With fours days of shooting, with hand held cameras and using pickups, you are now in the best poistions in the house. Seventy hours of footage which I edited like a normal movie. A lot of those National Theatre Lives, because they are live don't have the time to work it. We're in po;sitions that no audionec could be. So now you are getting the supportr of the close up, which means you can understand it when you see the facial expression and the lips moving. You don't need to know what the words are. I found that in Tuts Andronicus [which she directed on film with Anthony Hopkins in 1999. I still don't know what a weeping welcon is but when Anthony Hopokins says it, you get it. You could turn off the dialogue and you would know what's going on."
コラム
第38回:天才演出家で監督のジュリー・テイモアが、自身のシェイクスピア舞台を映画に!